When so many students need to use a VIVE headset—a limited, one-at-a-time resource—how do we schedule successfully? For the two courses we are supporting this Fall semester that will be utilizing our headset, we've recognized that the experience of VR will have to be outside of scheduled class time.
For Economics of Tech and Innovation, we're using a Doodle poll, making use of their features like limiting selection to one poll option, capping participants (in this case, at five), and ad-hoc recurrence for dates and times.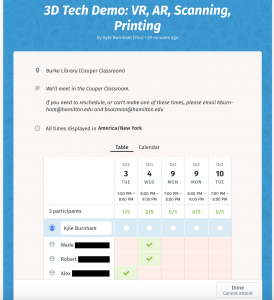 One of the goals of Economics of Tech and Innovation is using this hands-on experience to think about these disruptive fields. Given that, we wanted to supplement our paraprofessional student interns with professional staff to answer questions not just about the specific technologies, but the field more broadly. We thought we could also help our student interns manage four or five students exploring four different technologies, providing a mentorship opportunity between our professional and student support staff. Due to the class and sport schedules of Chris Georges' students, the times that worked for them were all evenings; of these, we worked around Kyle and Ben's schedules and events in the library to plan five sessions, enough for all the students.
For Contemporary Issues in Computer Science, we'll be scheduling with Google Calendar, and it will be completely handled by our student interns. Our entire student staff will be trained in supporting VR, so Hirshfield's students will be able to schedule a one-on-one appointment with the VIVE any time Burke Library's Research & Design Studio is open.